1 Minute Review
TradeStation is for advanced traders who need a comprehensive platform. The brokerage offers an impressive range of investable assets as frequent and professional traders appreciate its wide range of analysis tools. TradeStation's app is also equally effective, offering full platform capabilities.
Best For
Advanced traders
Options and futures traders
Active stock traders
Pros
Comprehensive trading platform and professional-grade tools
Wide range of tradable securities
Fully-operational mobile app
Cons
Confusing pricing structure to leave new traders with a weak understanding of what they pay
Cluttered layout to make navigating TradeStation's platform more difficult than it should be
Why TradeStation Over Others?
Thinking about opening an account with TradeStation? Here are a few of the broker's biggest strengths:
Educational and analysis tools: TradeStation's platform was originally designed for professional traders. With TradeStation's new TS GO account option, new traders can access professional-grade stock screeners, educational development tools and charting capabilities like the pros. The broker's education center and real-time data access represent an excellent place to begin your trading journey or learn more about how to trade.
Variety of available equities: From stocks to ETFs to futures contracts to cryptocurrencies, TradeStation offers a wide variety of tradable assets. These assets complement a host of educational tools and resources.
Commission-free trades: TradeStation offers unbeatable $0 commissions on stocks and most ETFs.
Brokerage Quick Summary
| | |
| --- | --- |
| Tradable assets | Mutual funds, stocks, bonds, ETFs, futures, options, cryptocurrencies |
| Platform | Comprehensive platform can overwhelm new traders |
| Mobile app | Fully operational, mirrors most services and capabilities of the desktop |
| Account minimum | $0 to $2,000, depending on chosen account type |
| Available account types | Taxable, joint, IRA, Roth IRA, additional options for institutional investors |
Most brokers charge fees and commissions in exchange for executing the trades you request. Let's take a look at what you can expect to pay in commission when you use TradeStation as your broker.
| Security | TS GO | TS Select |
| --- | --- | --- |
| Stocks | $0 | $0 |
| Options | $0 plus $0.50 per contract | $0 plus $0.60 per contract |
| Futures | $0 plus $0.85 per contract, per side | $0 plus $1.50 per contract, per side |
| ETFs | $0 | $0 |
| Mutual funds | $14.95 per trade | $14.95 per trade |
| Bonds | $14.95 per trade plus $5 per bond | $14.95 per trade plus $5 per bond |
TradeStation offers 2 distinct account types: its basic TS GO account aimed at new trades and its more in-depth TS Select account aimed at more advanced traders looking for a comprehensive set of tools and research options. There's no minimum account balance required to open a TS GO account. TS Select accounts require a $2,000 minimum deposit.
Signing up for an account with TradeStation is intuitive and simple. You'll begin by choosing the type of account you want, entering a little personal information, answering a few questions about your experience level and agreeing to the company's terms of service. A TradeStation representative will review your application and open your account. As soon as your account is open you can begin funding your account and making trades.
TradeStation's main draw for investors is its comprehensive, professional-grade platform. For a while, TradeStation mainly marketed itself as a trading platform for experts, offering a wide selection of trading tools that corporations and professional traders could use to screen stocks.
TradeStation retains all of the tools that professional traders need to inform their trades and has extended its offerings with its $0 account minimum TS GO option. The Matrix, the broker's lightning-fast 1-click order entry tool, is especially useful for day traders and those trading lower-value stocks more likely to show high volatility throughout the day.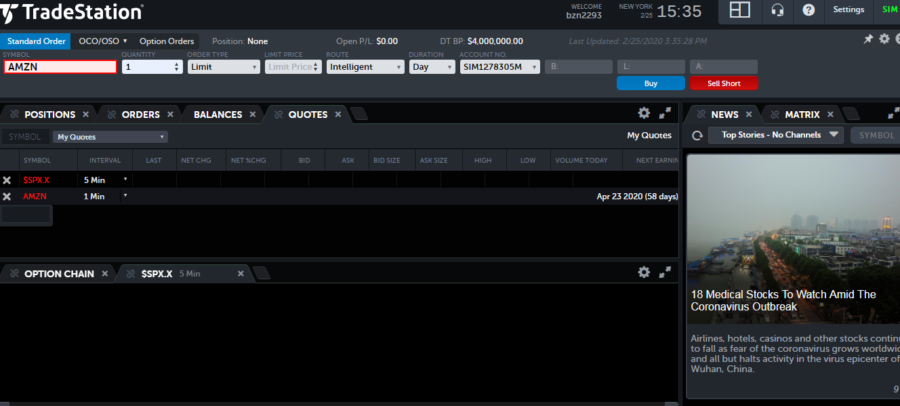 TradeStation's platform is comprehensive but can easily become overwhelming for new users.
To gain access to most of TradeStation's professional-grade tools (including its impressive TradeStation 10 desktop platform), you'll need to sign up for a TradeStation Select account with a $2,000 minimum deposit. TradeStation Select account holders also pay a higher per-trade fee on options and futures trading. This price may be worth the additional cost for TradeStation's high-level screeners but may not be useful for those who are just getting started in the world of trading.
TradeStation also features a complete set of YouTube videos to help you learn more about how to use the platform. Its "Mastering TradeStation" course is free to view and use online and it also offers a wide range of YouTube instructional tutorials that can help you learn more about the difference between screeners, how to place orders and how to take advantage of its mobile app offerings.
If you're new to trading, you'll love TradeStation's Simulated Trading tool. Its Simulated Trading tool allows you to practice entering buy and sell orders using TradeStation's suite of charting and analysis tools and your own trading strategy without risking any of your own money.
When it comes to usability, TradeStation comes up a little short. The trading platform's website is cluttered, which makes it difficult to find information. Not much information is available to the differences between retirement account options. Navigating through TradeStation's wide range of pages might be overwhelming for new traders.
The bottom line? TradeStation's platform is comprehensive, including a variety of tools and screeners that experienced traders will love. However, when compared to brokerages that focus solely on providing traders with the easiest trading experience possible (like Robinhood) it's easy to see how new traders might be overwhelmed by the sheer number of options available through TradeStation.
One area where TradeStation excels is in education. Though it was originally aimed at professional investors, TradeStation now offers a wealth of education options that brand new traders can understand and use.
Let's highlight a few of the best features that TradeStation offers new traders looking to learn:
Native news and research: When you trade, you won't need to have 20 different tabs open to research the day's hottest stocks and trades. TradeStation's desktop platform includes a native research section that allows you to learn more about the day's market news and make a trade within 30 seconds. The company's platform news network includes some of the most-read stories of the day from a wide variety of sources. You can also browse trading ideas, news in a variety of subsections (like legal developments and FDA decisions) and ETF examinations.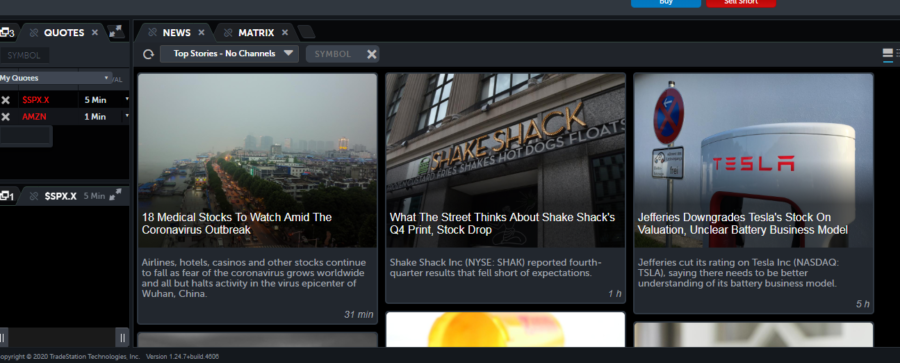 TradeStation's native news platform makes it easy to get up-to-the-minute news.
YouTube education: TradeStation regularly updates its YouTube channel which, as of this writing, features over 100 easy-to-follow explainer videos detailing how to use the platform. The company regularly schedules live demonstrations and introductory courses that allow you to follow along with and comment on in real time. After they air, these live videos get archived. No matter if you're looking to learn more about cryptocurrency trading or you want to review some of the basics of the platform, there's on-demand educational options available for you.
In-depth radar scanners: A scanner is a type of tool that you can use to sort funds and equities based on set parameters. For example, you might set a scanner to show you only stocks which pay at least 4 dividends per year and that are under $50 per share.
TradeStation's advanced scanner allows you to use over 180 technical and fundamental indicators to sort equities, options, funds and other types of securities. You can also use TradeStation's EasyLanguage feature to create your own indicators using simple statements instead of advanced programming language.
TradeStation also offers a full Master Class course you can use to conquer the TradeStation platform. Webinars, eBooks and live events are also available. No matter how you like to learn and what type of teaching style you prefer, TradeStation has an offering for you.
TradeStation offers a variety of methods you can use to contact customer service.
By phone: You can contact TradeStation's customer service team by phone by calling 800-822-0512 or 954-652-7900. Technical support is available 24 hours a day except for the first weekend of each month where they are closed from Friday at 6 p.m. ET to Saturday at 5 p.m. ET.
Via email: To contact TradeStation via email, send a message to sales@tradestation.com. Email support is currently only available for those interested in opening a new account.
Online chat: You can use TradeStation's online chat feature by logging into your TradeStation account or by clicking on the "chat online" feature on the company's contact page.
Currently, there are no designated customer service options specifically for those with hearing limitations.
TradeStation offers traders a variety of affordable equity and contract trading options. You can currently trade stocks, bonds, mutual funds, ETFs, futures, options and cryptocurrencies on TradeStation's platform. For each asset, you can use TradeStation's comprehensive platform to inform your trades and screen by your chosen set of indicators.
TradeStation Stocks, ETFs and Mutual Funds
TradeStation offers full access to the U.S. stock, bond and fund market at exceptionally affordable prices. You can buy and sell any stock listed on a U.S. market, and the broker also supports trades of over 2,000 commission-free ETFs. TradeStation's full suite of screening and historical data tools can help you choose which securities to buy. Most of TradeStation's equity trades are commission-free.
There are currently no commission-free mutual funds available on TradeStation. Though the broker does offer access to over 2,000 mutual funds, you'll pay a commission of $14.95 per trade.
TradeStation Options
TradeStation's platform supports options trading — but it doesn't stop at capabilities. Options trading can be confusing for new traders, so the broker has created a complete set of educational tools to help new traders understand how to use options effectively.
Options trades from TradeStation are commission-free and available from $0.50 per contract. This is exceptionally affordable when compared to competing brokerages.
TradeStation Futures
TradeStation's futures platform is equally as impressive as its options and equity choices. TradeStation offers over 150 futures products and offers leverage to those trading futures. Leverage allows you to buy or sell with the power of more money than you have in your account. The amount of leverage you have access to depends on your account type, income and how you want to trade.
TradeStation's futures trading platform is available 24 hours a day, 6 days a week. Trades are available from just $0.85 per contract and futures options are also available.
TradeStation's mobile app mirrors the features and capability of its desktop platform. You can make trades, put in orders and perform research on the TradeStation app — just like you can on the broker's desktop platform. TradeStation's app is one of the best on the market, a feature that's especially useful for traders who travel frequently.
Some of the features we love about the app include:
Real-time data streaming: You can view real-time equity prices, browse the news and place trades on TradeStation's mobile app — just like on the broker's desktop platform.
Easy watchlist creation: Want to create a list of equities or funds to watch? Just enter your ticker and click on the bell icon. You can create multiple watchlists to fit your needs.
Alert features: Are you the type of trader who can't be tied down to a mobile device all day? You can set price alerts for the stocks you choose. Enter your ticker, click on the bell icon and specify when you'd like to receive a notification. TradeStation mobile will then serve you a push notification when the specification you entered is reached.
The TradeStation app is available on both iOS and Android devices. Downloading the app is completely free.
TradeStation is a force to be reckoned with when it comes to 1-stop trading solutions. The broker's set of tools is unmatched and it offers some of the best educational tools anywhere. Whether you enjoy learning by picking up an e-book or you prefer to watch live trading demonstrations, TradeStation has a method you'll like.
Equally as impressive is TradeStation's trading platform. The broker offers over 180 indicators you can use to screen the market for trading opportunities and ideas. You also don't need to be a master programmer to create your own indicators, allowing you to fully customize your trading. Native news outlets and sources can also help inspire you. However, this vast set of tools might overwhelm new traders who prefer a simpler, more streamlined trading experience.
If you're the type of trader who enjoys mobile capabilities, one of the strongest features of TradeStation is its app. TradeStation's app, available for both iOS and Android and which offers the full compatibility of the desktop platform.
Though TradeStation's offerings are generous — $0 commissions on stocks and most ETFs — mutual fund and bond investors will be disappointed with its $14.95 commission per trade.
Overall, we rate TradeStation 4.5 out of 5 stars. The platform is incredibly impressive and educational but may not be the simplest option for new traders.
Frequently Asked Questions
Q: How do I place a trade on TradeStation?
TradeStation's algorithm gives you the ability to route orders to various market centers to which TradeStation connects directly. You can place orders from the Order Bar, Matrix Chart Trading and Market Depth Window or by using Macros, Hot Keys and automated strategies on the TradeStation platform.
Answer Link
Q: How do I open a TradeStation account?
To trade equities (cash or margin), equities options, futures and futures options with TradeStation Securities or Cryptocurrencies with TradeStation Crypto, apply here.
Please note you must fill out a paper application for a futures traditional/Roth/SEP/SIMPLE IRA account?or an entity account?(trust, corporation, general partnership, limited partnership, limited liability company or sole proprietorship).
Answer Link
4887王中王鉄算盘开奖结小说